21 Juices and Smoothies That Will Keep You Slim
Diabetes and fruit don't normally go well together. Since juice and smoothies are often loaded with sugar and carbs they are often avoided by people with diabetes. However there are ways to have the best of most worlds with these juice and smoothie ideas you can stay healthy and get the daily doses of vitamins and minerals you need. They also can help you to lose weight and keep you feeling full. These 16 smoothies will help keep you slim without starving!
1. Pumpkin & Fig Smoothie
via leanneray.com
This healthy pumpkin smoothie is creamy, includes a serving of orange vegetables, and tastes like dessert.
2. Blake's Intoxicating Detoxification (Blake Lively)
via wellandgood.com
Lively says, "I come from a Southern family, so my taste leans more toward butter and sugar than veggies; if they're battered in cornmeal and fried, then I'm in!….Then a few years ago, I had a juice that changed it all for me—a mix that's better than any po' boy you'll ever eat."
3. Cleansing Apple Avocado Smoothie
4. Jennifer Aniston's Wonder Smoothie
Jen's dietitian, Ashley Koff, RD, says "doing one day of liquid nutrition a week is a great reset for your body. But for someone who struggles with hunger or has to worry about blood sugar crashes, I recommend blending some nuts into the smoothie for protein."
5. Summer Berry Smoothie
via erinpalinski.com
This protein-packed summer smoothie helps to satisfy cravings while fighting belly fat.
6. Kale Smoothie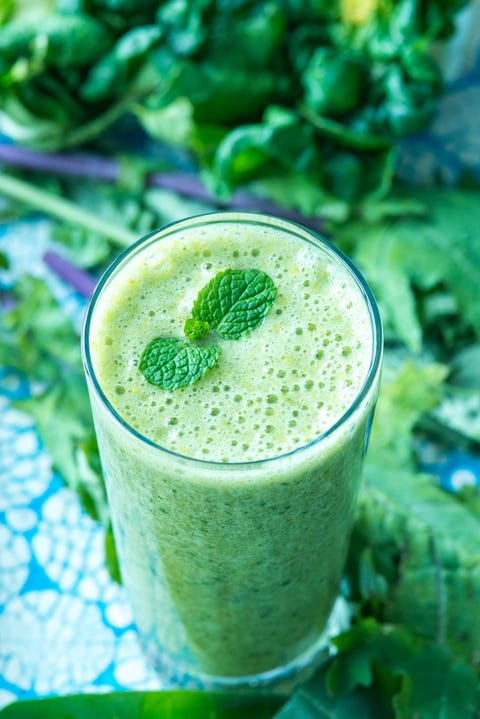 "The ingredients in this smoothie are filled with vitamins and minerals. There's plenty of fiber and protein for fullness, without overdoing it on fruit or calories. Also, it's a good way to get in a vegetable like kale if you don't enjoy eating it," says Kelly Kennedy, R.D.
7. Five-Ingredient Go-to Green Smoothie
A healthy source of fats, quality protein, nutrient-dense greens, and satisfying fiber.
8. Paula Abdul's Blueberry Surprise
via shape.com
Abdul says, "When I'm juicing, I can really feel the difference. I have so much more energy because I'm getting a healthy serving of fruits and vegetable. My nutrition is balanced, and my sugar cravings are satisfied."
9. Blueberry Muffin Batter Smoothie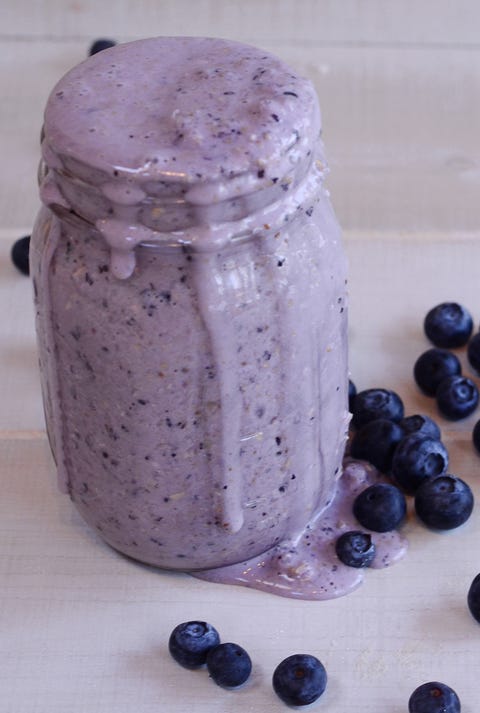 via womansday.com
"The protein powder helps you feel satisfied and keeps your energy going, while the cashew butter provides good-for-you fats, keeping you fuller longer. Blueberries are also a smart choice, as they're an excellent source of antioxidants to fight inflammation, which helps keep your weight loss goals in action," says Annessa Chumbley, R.D., nutrition expert for Premier Protein.
10. Blueberry Smoothie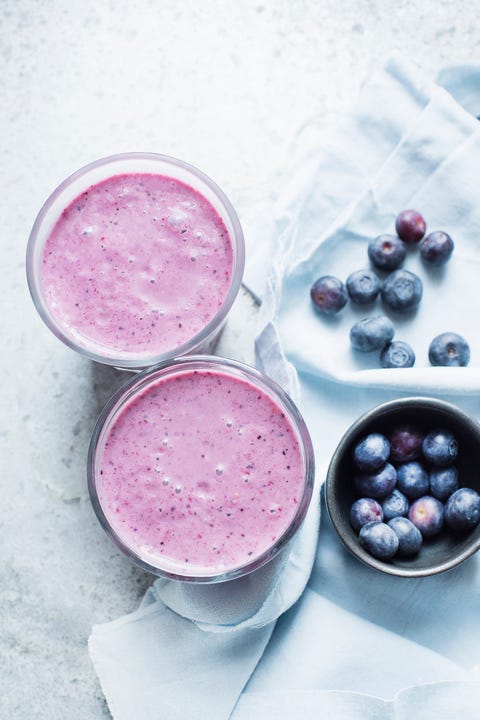 This smoothie is simple and satisfying for anyone trying to lose weight. The protein in the Greek yogurt helps curb your appetite and keeps you from overeating, the berries provide antioxidants.
11. Debra's Green Elixir  (Debra Messing)
via wellandgood.com
Messing says, "Every morning on set I have my 'green drink,' which is spinach, kale, cucumber, lemon, celery, and green apple. I'm not a big green vegetable eater, so the juice really has filled a huge void in my diet, and I feel stronger for it."
12. Glowing Skin Green Juice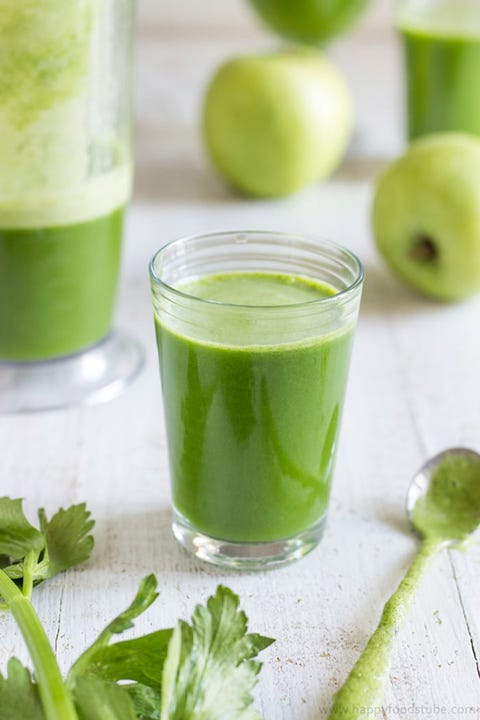 via womansday.com
According to Medical News Today, celery is a crunchy, low-calorie snack that's packed with vitamins C and K, and it may lower inflammation and reduce blood pressure, both of which are linked to weight gain.
13. Chocolate-Covered Cherry Smoothie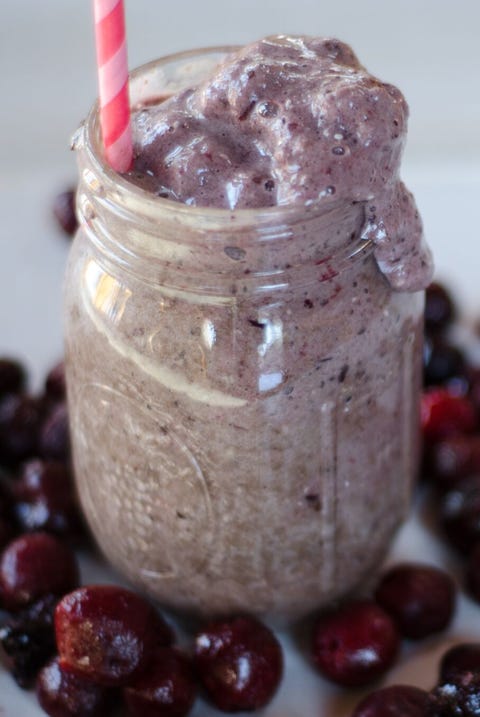 via womansday.com
14. Superfood Smoothie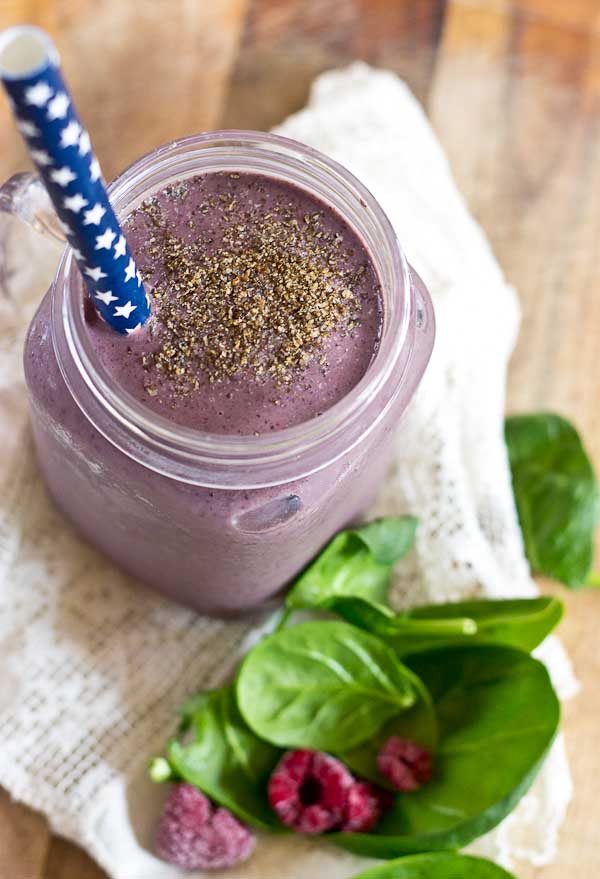 via loveandzest.com
Superfood Smoothie crammed packed with good for you stuff like chia seeds, ground flax, loads of berries, and spinach.
15. Berry-Kiwi Smoothie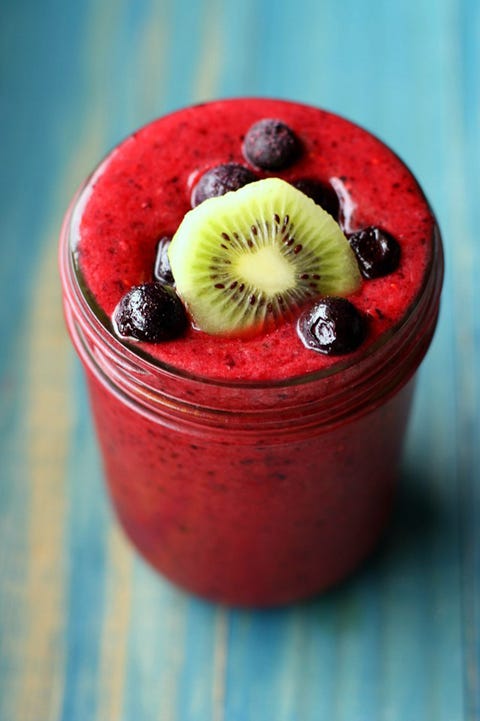 via womansday.com
16. Beyonce's Lemonade
When Beyonce suffered the pain of infidelity, rather than dealing with it, she made this lemonade recipe. In a poetic way, Beyonce says, "Take one pint of water, add a half-pound of sugar, the juice of 8 lemons, and the zest of half of a lemon. Pour the water from one jug into the other several times, strain through a clean napkin. Grandmother, the alchemist. You spun gold out of this hard life. Conjured beauty from the things left behind. Found healing where it did not live. Discovered the antidote in your own kitchen. Broke the curse with your own two hands. You passed the instructions down to your daughter, who then passed it down to her daughter."
17. Tropical Carrot Smoothie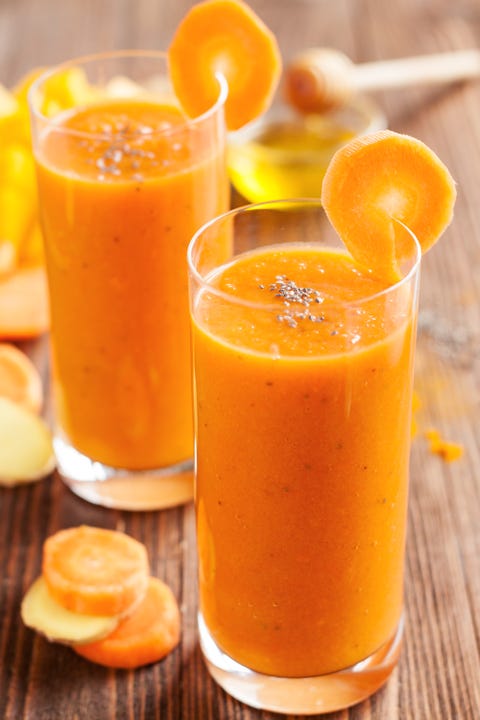 via womansday.com
"The milk and Greek yogurt give you a dose of protein and calcium while the chia seeds are a great way to up the fiber and easily mix in omega-3 fatty acids," says Kelly Kennedy, R.D.
18. Banana Nut Smoothie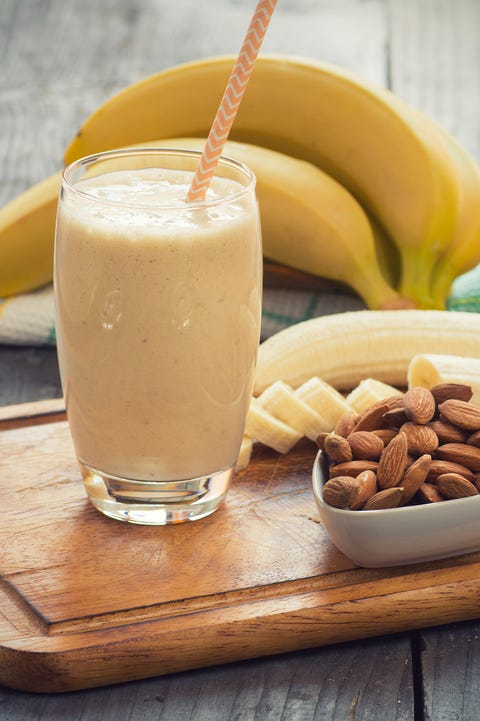 via womansday.com
"This creamy smoothie provides a balanced combination of all the major nutrients your body needs to lose weight. The Greek yogurt provides protein, banana contributes healthy carbs and fiber, and you'll receive a dose of healthy fat from the almond butter. You'll surely feel satisfied and full," says Cathy D'Orazio, M.S., R.D.
19. Strawberry Ginger Smoothie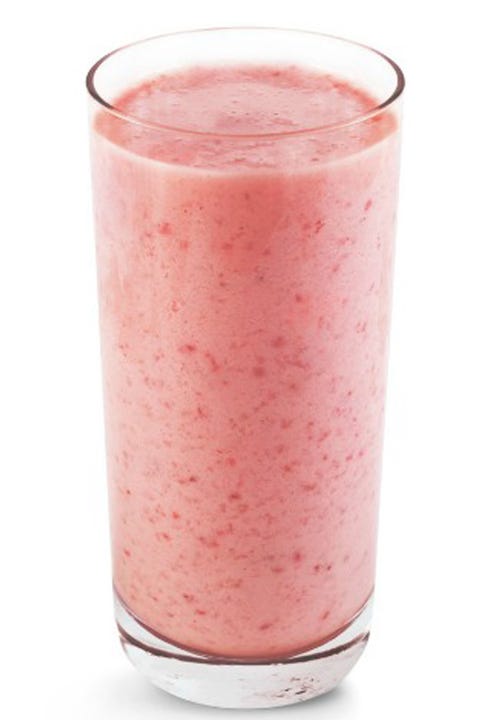 via womansday.com
20. Raspberry Chia Smoothie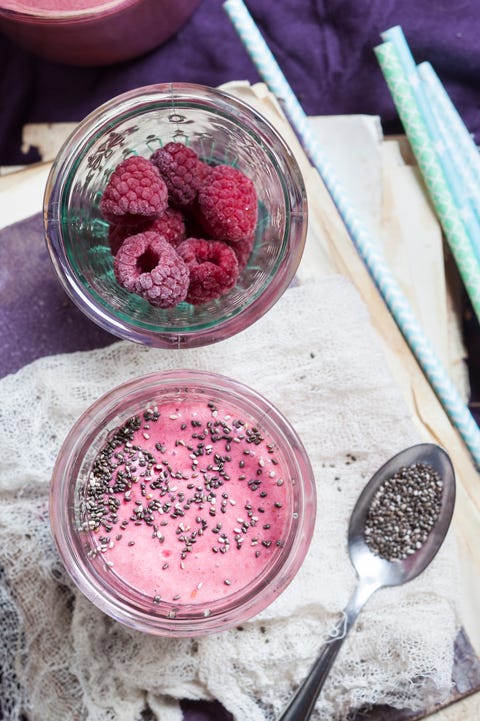 via womansday.com
"The iron-rich spinach in this smoothie, paired with the vitamin C-rich raspberries, will ensure optimal iron absorption. Iron helps your body create energy by carrying oxygen to your muscles, which in turn helps them burn fat," says MaryKate O'Riordan, R.D.
21. Bannana Oat Smoothie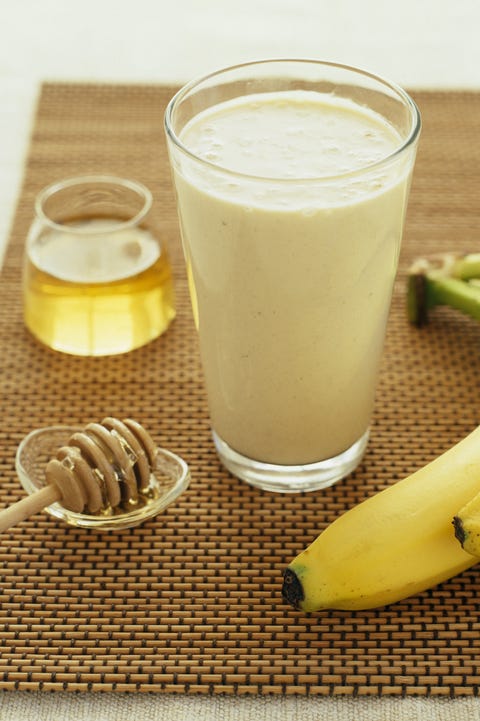 Oats and bananas are full of fiber and are slow-burning to keep you full longer. Bananas are an amazing source of potassium, B6, vitamin C, and cinnamon contains polyphenols that boost metabolism and help regulate blood sugar (a bonus for people with Diabetes.
Ready to Learn More? Wait!
You are not being told the truth about the most important Diabetic Break throughs being discovered by doctors and Leading medical research centers.
There is not some grand conspiracy.
It's just that breakthroughs are not "trending topics" to most news outlets.
These breakthroughs are reported in medical journals, meant for doctors and other researchers. Publications like the American Medical Association, American Heart Journal, and the American Diabetes Association to name a few…
In many cases these discoveries are made in prestigious health centers in other parts of the world, and never receive any type of coverage in American media.
This leaves huge gaps in the health information you are able to get. Yet many of these underreported discoveries can change how you and your loved ones think and live with Diabetes.
Thats why we created Stark Raving Fitness.
Until Stark Raving Fitness came along, if you wanted to keep up with new information about diabetes, fitness, and living healthy, you would have to subscribe to numerous professional medical journals and newsletters hoping for information about diabetic related topics.
In doing this you would be expected to pay a hefty toll for information you might not even want.
You would almost need to have a medical degree to understand the information and wording of many of these articles. But thats changed thanks to Stark Raving Fitness.
---
Here are our top 3 Nutrition Articles you can read right now that will help give you a short cut to living a healthy, fit, and successful life with Diabetes.
1. Can A Simple Fruit Hold The Secrets to Curing Diabetes
2. Crazy Simple Methods To Increase Fruit Intake for Diabetics
3. Bananas Astonishing Effects on Blood Sugar
---
IF YOU ENJOYED THAT, WE WOULD LOVE FOR YOU TO FOLLOW US ON PINTEREST AND DON'T FORGET TO PIN IT!